About Our Thrust Bearings
All Torque Transmission thrust bearing designs incorporate the optimum combination of molded nylon retainer, heat stabilized 6/6 nylon held to a rigid design criteria assuring consistent quality, with hardened grade steel balls ,100 tolerance (±.0001", ±.0025mm), and washers that are hardened to RC 59 to 61 and finished to a 10 micro inch surface.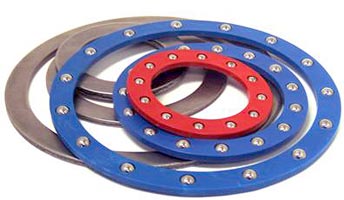 Why Molded Nylon?
We use molded nylon for our thrust bearing design because it offers a range of advantages. The self-lubricating property of nylon and the precision molded pockets the balls rest in work together to create smooth, free-turning, quiet operation. Nylon also weighs a fraction of aluminum or steel so molded nylon thrust bearings are lightweight.
Combined with the hardened carbon steel of the balls, these bearings offer exceptional durability. Even in the most demanding of situations, our thrust bearings offer exceptional service life.
What Our Customers Are Saying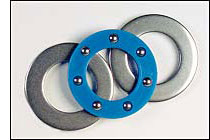 Peter Mitras, Owner and CEO or Thump Racing and High Precsion Machine says:
"The off the shelf Torque Transmission low profile thrust bearings are perfect for our application. The belt tensioners for race cars, typically1/4 mile dragsters, require a robust and tough thrust bearing.

The stock belt tensioners do not hold up to the pressure of the RPM and torque generated when these cars are super charged. Stock tensioners made from cast aluminum snap when raced.

We make our belt tensioners with billet aluminum so they never snap and the Torque Transmission thrust bearings match the quality of our components and work so well we offer a lifetime guarantee for this product to our customers. Needless to say we are very happy working with the engineers and team at Torque Transmission."
Learn More
Contact Torque Transmission to learn more about our thrust bearings, request a quote, or download our catalog.