While it is not uncommon to find thrust bearings in applications like pressure gauges, surgical tools and equipment, they can also be used in other applications like valves.
Valves
Thrust bearings are frequently used in rotating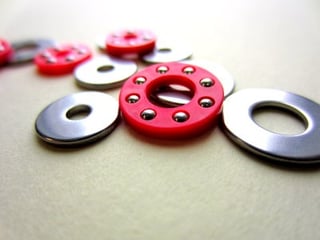 machinery. One common application is hand turned valves. The rotation of the handle's shaft is the perfect place for Torque Transmission's nylon thrust bearings with natural lubricity.
Thrust Bearing Options
We offer a number of thrust bearing options, including:
The Downside of Offshore Options
Some may think that the low price tag of offshore thrust bearings makes them ideal for cost savings, but for applications where the parts must meet exacting specifications they don't hold up.
"The attractive prices of offshore parts can often create a false sense of economy," explained John Rampe, president of Torque Transmission, "While the components may be dimensionally correct, the quality of the raw materials and the precision of the finished part may not meet the customer's specifications. The cost of failures in the field coupled with ordering, inventory, delivery and communication issues often outweigh any perceived cost savings in dealing with a non-domestic supplier. The high degree of expertise possessed by our engineers helps customers reduce costs by improving performance through innovative design, selection of the right materials and precision manufacturing," he concluded.
What Our Customers Are Saying
Torque Transmission's thrust bearings even hold up under extremely demanding conditions. Which is why, when Peter Mitras, Owner and CEO or Thump Racing and High Precision Machine, was looking for an off the shelf thrust bearing option for race cars he turned to Torque Transmission.
Unlike other bearing options, which can snap or warp under the conditions of super charged race cars, "the off the shelf Torque Transmission low profile thrust bearings are perfect for [their] application. The belt tensioners for race cars, typically1/4 mile dragsters, require a robust and tough thrust bearing."
Learn More
Are you working on a design that needs a reliable thrust bearing? Request a quote for your project to learn more.