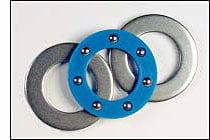 Thrust bearings are found in a wide range of industries and applications including automotive, aerospace, consumer manufactured products, medical, industrial, electrical, and many more. Torque Transmission offers a line of thrust bearings in a range of sizes and designs to suit nearly any need or application, including:
Inch and metric dimensions
Carbon steel or stainless steel for corrosion free bearing
Miniature size of 1/8th ID to 5 inch ID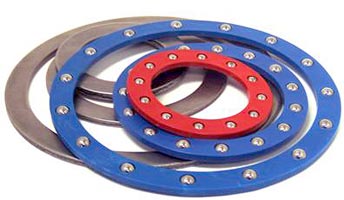 All Torque Transmission thrust bearing designs incorporate the optimum combination of molded nylon retainer, heat stabilized 6/6 nylon held to a rigid design criteria assuring consistent quality, with hardened grade steel balls ,100 tolerance (±.0001", ±.0025mm), and washers that are hardened to RC 59 to 61 and finished to a 10 micro inch surface..
Molded nylon is an ideal choice for thrust bearings because nylon offers a number of practical advantages. The self-lubricating property of nylon and the precision molded pockets the balls rest in work together to create smooth, free-turning, quiet operation. High-grade, hardened steel ball also help reduce friction, which contributes to the quiet performance and increases durability. Nylon is also lightweight, corrosion resistant, and offers significant cost benefits over traditional design materials.
For more information about our line of thrust bearings, contact Torque Transmission or click here for samples of standard bearings, which are available for test purposes and prototypes.