A metalworking technique used to shape metal parts, broaching offers a number of advantages over other methods for both small and large volume applications.
What is Broaching and What is it Used For?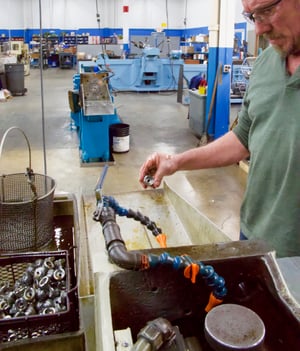 Broaching is a metalworking technique that uses a broach to remove material from a metal part. A broach is a toothed tool that can come in many shapes and sizes depending on the configuration of the piece and the amount of material that needs to be removed.
A machine passes the broach through the part to remove material. The material is removed in a single pass, although finer broaches can be used in subsequent passes to remove even more material and create rough, semi-finished pieces, and finished pieces.
This technique was initially used to create keyways, although it now it is also used for a variety of applications including shaping a gears spline and forming external gear teeth.
Advantages of Broaching
One of the most critical benefits of broaching is that it is an efficient process. This makes broaching ideal for high volume applications.
Broaching is ideal for creating precision shapes especially odd shapes like non-circular holes, splines, and keyways. Some of the shapes and applications we are able to broach include:
Splines
Hex
D bores
Double D bores
Square
Octagonal
Learn More
We have recently added broaching services to the machining processes we offer. In addition to standard broaching, we also provide custom broaches, broach grinding, and can sharpen and recondition your production broaches as well.
Contact us to learn more or to request a broaching quote.