Typically found in lathes, light-duty milling machines, drills, and other power tools plastic or nylon molded v-belt pulleys are designed to be excellent solutions for low and fractional horsepower drives. And while standard design v-belt pulleys are appropriate for most applications, there are situations where a custom v-belt pulley is necessary.
Custom V-Belt Pulleys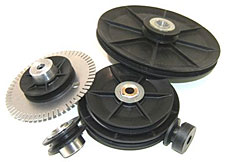 For applications where our standard designs are not ideal, we offer custom design services. With experienced engineers and a full manufacturing facility, we can work with you to take your specifications and turn them into reality.
The process begins with a review of your requirements where our engineers will work with you to refine the design, and if necessary, create or modify mold tooling to meet your specifications. Once you have approved the design, and we have the engineering masters and production tooling your component is now a standard part.
Our process turns custom requirements into a repeatable standardized production part.
V-Belt Pulley Design
Our standard v-belt pulley design makes use of both nylon and metal to provide exceptional performance. Molded glass reinforced nylon bodies with machined metal (steel, stainless steel, and aluminum are typical) hubs create a strong and durable design that is economical, lightweight, and offers low inertia.
When designing a custom v-belt pulleys, we will pull from as many of these design elements and materials as possible to create a custom, long-lasting v-belt pulley.
Learn More About Our Line of Pulley Solutions
From standard designs to custom pulleys we offer a full line of pulley solutions, and we can help you find the right pulley for your applications requirements. Contact us to learn more about our v-belt pulleys or our full line of pulley options.
You May Also Be Interested in These Related Posts