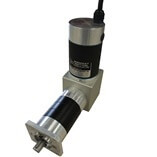 Speed and agility create winners in today's markets. Having the answers to your customer's questions and the products on hand when they need them are critical competitive advantages.
Midwest Motion Products believes in being there for their customers and having what they need when they need it. That takes a commitment from the top down, an investment in the right people, and inventory. It also requires suppliers that agree with this business philosophy.
Randy Cordes, the CEO & Founder Midwest Motion Products, Inc, comments that by working closely with Torque Transmission, they have developed a new line of right angle gearboxes primarily because "they answer our questions, always respond quickly, know their products very well.
Mr. Cordes further reports that "Torque Transmission has been very diligent to provide exactly what we need for our gear-motors, and they commit to shipping those components to us quickly, so we can maintain our commitment of Lightning Fast deliveries to our customers", says Mr. Cordes.
"Customer attention is our key differentiation. We produce great quality products but it gets tougher all the time to keep that the basis of differentiation in the customer's mind. We need partners like Torque Transmission to enable us to deliver on that service promise", says Mr. Cordes
Midwest Motion Products supplies DC gear-motors for a variety of applications including robotics, factory automation, military applications (mobile robots that pick up and dispose IED's for example), medical mobility and accessibility products like patient positioning systems and wheelchair ramps and lifts, and many other high performance products.
Midwest Motion Products is located in Howard Lake, MN and designs, manufactures and distributes standard and custom motion control equipment, including fully reversible brushed and brush less DC gear-motors, motors with fail safe brakes and servomotors with feedback devices such as analog tachometers and encoders. We also provide fully-sealed IP-65 motor speed controls @ 12/24/48 VDC, AC~DC power supplies and a wide variety of 12/24 VDC linear actuators.
Learn More
Contact Torque Transmission to learn more about our products, request a quote, or download our catalog.
Check out these related posts: