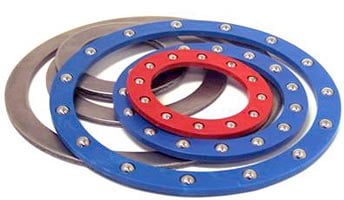 When using large diameter thrust bearings, typically they are heavy with large diameter balls or rollers and designed to handle a load of thousands of pounds. However, when you need a larger diameter thrust bearing and your thrust load does not exceed 500 lbf, Torque Transmission has the perfect solution.
Not every application requires a 25 pound bearing that stacks 3 inches high. Avoid overkill with our lightweight nylon thrust ball bearings. They're long lasting, resistant to corrosion, and feature natural lubricity. The best part is that they cost a fraction of standard large diameter thrust bearings. When specifying the parts for a project, most design engineers have found the selection of large diameter thrust bearings to be limited and costly. This solution will help you meet the needs of design and budget.
The large diameter bearings are ideal for light duty and low RPM industrial applications. Making use of the strength and durability of steel washers and the performance advantages of a nylon retainer, these bearings offer superior performance.
Large Diameter Bearing Applications
While large diameter bearings can be found across a wide range of industries and applications, some of the most common applications include:
Advertising signage
Rotating tables
Workstations
Marine hardware
Point of purchase displays
We can design, prototype, and manufacture custom bearing solutions if our standard bearings do not meet your application's requirements.
Learn More
Torque Transmission manufactures Thrust Bearings, Pulleys, Right Angle Gear Boxes & Speed Reducers and Roller Chain Sprockets in standard and custom sizes. Our product line is designed to provide our customers a comprehensive solution for fractional horsepower motion control and variable speed transmission applications.
We draw upon decades of design and manufacturing experience to modify or customize any of our products to meet your specific application, quickly and economically. Our in-house design capabilities, tooling, and manufacturing expertise allow us to respond quickly and to be your single-source supplier.
Contact us to learn more!
You Might Be Interested in: