Our molded synchronous drive pulleys, or timing belt pulleys, are reinforced with metal inserts to offer the lightweight advantages of nylon along with the advantages of a metal-to-metal connection at the hub.
Why use both aluminum and nylon in the construction of these pulleys? As we said above, the metal-to-metal connection at the hub of the pulley adds durability, strength, and longevity to the pulley design. The use of nylon, however, allows our pulleys to be both lightweight and cost-effective. Additionally, nylon is self-lubricating, chemical, and shock resistant.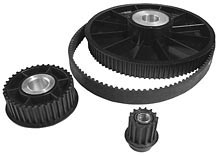 Timing Belt Pulleys Available
We offer a wide range of timing belt pulleys, including:
If one of our standard pulleys doesn't meet your project or applications specifications, we are able to modify one of our standard timing belt pulleys to meet your specifications. We are also able to walk you through the process of designing, sampling, and producing a fulling custom option.
Learn More About Our Full Line of Pulley Solutions
Contact us to learn more about the advantages and benefits of the Torque Transmission line of timing belt pulleys or to learn more about our pulley options.
You may be interested in these related posts: