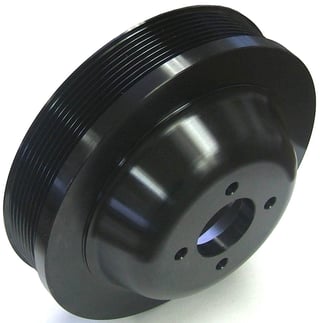 Torque Transmission is dedicated to continuous improvement and seeking new and better ways to serve our customers. We have recently joined forces with Erie Shore Machine Company, a contract machine company based in Cleveland, Ohio since 1979 to form Torque Products, LLC. Torque Products will continue to offer CNC milling, turning, and wire EDM services. With this added resource, we are excited about our increased capabilities for one particular product.
All Metal Pulleys Come Back to Torque Transmission
With our sister company, Torque Products, LLC now complementing our current offerings, we have considerably expanded our line of multi-groove pulleys. Torque Transmission has manufactured this style of pulley for many years, but now we can offer higher quantities, more material options, faster lead times, and lower prices.
Need one pulley for a prototype and need it right away? No problem.
Need a source for 1,000 multi-groove pulleys or Poly V© and Micro V© pulleys to save money on an existing production order? We can do it and do it for less.
No project is too big or complex for our team to tackle. Torque Transmission's sales and engineering staff are ready to help you.
Multi-groove belts and pulleys, also known as Micro-V® pulleys or Poly-V® pulleys, are common throughout many applications in countless industries. Their benefits range from compact, space-saving design to high power transmission and lowered operating costs.
Check out our Multi-Groove Pulley Buying Checklist below.