The FIRST Robotics Competition team 1640 (FRC 1640) used a Torque Transmission VPSR-10 pulley in their award-winning robot during the 2017 season.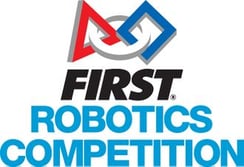 Their robot uses four steering pods which allows them omnidirectional movement. They utilize sensors to provide feedback to maintain set point velocity, and a hobby servo adjusts the belt tension to control drive ration. You can learn more about the DEWBOT XIII drive train here.
And they have done an awful lot with their robots. FRC 1640 were Division Champions at FRC Championship. They also received the District Engineering Inspiration Award ( Seneca), two Innovation in Control Awards (Westtown and MAR Championship), and qualified for IRI.
You can check out some footage from their 2017 season here.
Nylon Pulleys
Our pulleys are constructed from a nylon 33% glass fill and metal combination which allows them to utilize the benefits of both construction materials. Both lightweight and durable, the nylon adds a natural lubricity to the design that allows our pulleys to require no maintenance. They are also chemical and shock resistant.
Learn More
You can learn more about the FRC 1640 here. You can contact us to learn more about the advantages and benefits of the Torque Transmission line of pulleys or to learn more about our pulley options.
You may be interested in these related posts: