Pulleys can be found in almost any application from earth movers to sewing machines. Unsurprisingly, there are many styles and types of pulleys on the market to meet these diverse needs, and finding the right pulley for your specific project means matching project specifications with pulley capabilities.
Types of Pulleys Available
We offer fractional horsepower pulleys. If your application is 2 Hp or less we offer four main types of pulleys:
Each of these types of pulleys is available in a variety of standard sizes, meaning that our standard pulleys can satisfy the majority of application needs.
Selecting the Right Pulley for Your Project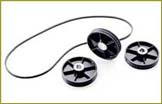 Before you can select the correct pulley from the available options, there are a number of specific pieces of information you will need. In general, however, there are three main considerations when selecting the right pulley for your project:
Size
Drive vs. driven requirements
Special consideration (noise, chemical resistance, etc.)
Often, the best way to select the right pulley for your project is to make use of a selection guide or checklist like our Pulley Buying Checklist. The checklist guides users through the process of matching application requirements with the information we would need to match you with the best pulley for your project.
A checklist like this will allow you to focus on the absolutely necessary specifications, keep all the information organized, and ensure your communications with your supplier are productive (no wasted time going back and forth requesting and collecting specification data).
However, sometimes the best solution is a custom, or non-standard, design. A non-standard design might seem like a cost prohibitive solution; however, this is not the case. Making use of our in-house engineering talent, mold making capabilities, and tooling we can often engineer a custom solution swiftly and cost effectively.
A non-standard solution, in fact, is often the most cost-effective way to meet any special considerations or project specific specifications. Gathering all of the application specifications is a necessary step to determining this, however.
Learn More About Our Full Line of Pulley Solutions
Contact us to learn more about our pulley options, and let our experienced engineers design you a solution.
You may be interested in these related posts: