Have you ever wondered what if would be like to drive a Formula 1 car at Grand Prix de Monaco? On the back straightaway, 150 mph, downshifting into a hairpin turn, engine screaming at 9,000 rpm, 110 mph into the turn - powering through at 130 mph into the straightway, 120 yards to the next turn - moving at 63 yards per second, 1.9 seconds to be ready...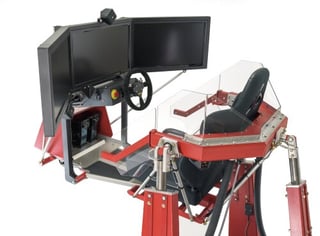 Force Dynamics knows what that feels like.
Located in Trumansburg, NY, Force Dynamics started out in the 1990's building custom machinery for automotive manufacturers.
They then moved into building motion simulators for automotive and aerospace companies.These are not just any motion simulator. Force Dynamics builds systems that tilt and rotate to simulate the experience of being in a car, plane, or pretty much any other vehicle. These integrated systems can be configured as a driving, racing, flight simulator, or customized to match specific requirements.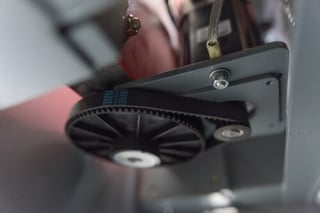 What makes these simulators unique is a motion system that provides a large range of motion that simulates forces, delivers high-impact acceleration, and has precise frequency response that helps provide a realistic experience. They even come with a a 900 watt surround sound system!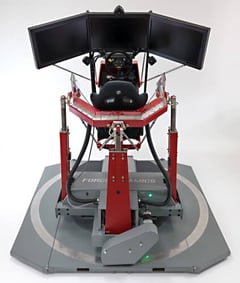 David Wiernicki, President Force Dynamics, says, "To build a racing simulator that makes the user feel what the vehicle is doing underneath them we must design and build a very precise, as well as rugged system, to deliver the motion to the user. Our motion platform is a 4 axis system with pitch, roll, heave, and yaw options. They are built as a full electric servo system with a motor driven ball screw that runs the strut up and down and using the Torque Transmission timing pulley system. The Torque pulleys just work and we never have to worry about them holding up. Some of our systems are in almost continuous use for a long time, in some cases over 10 years, so we know the pulleys are built to last."
David understands the importance of a great experience for the person using the simulator, it has to be real to be effective. David loves racing and he used the simulator to prepare for a race and without ever driving the car on the actual track was able to be competitive. The simulator is that good.
Torque Transmission supplies two types of timing pulleys to Force Dynamics:
Types of Timing Pulleys
We offer fractional horsepower pulleys. If your application is 2 Hp or less we offer four main types of pulleys:
Each of these types of pulleys is available in a variety of standard sizes, meaning that our standard pulleys can satisfy the majority of application needs. We can also create custom designs based on your specifications.
Learn More About Our Full Line of Timing Pulley Solutions
Contact us to learn more about our pulley options, and let our experienced engineers design you a solution.
You may be interested in these related posts: