Carter Day, a Minnesota-based manufacturer of agricultural equipment, produces a particular grain dryer that utilized a 14.4 inch, diameter, 8mm HTD timing pulley to rotate the dryer.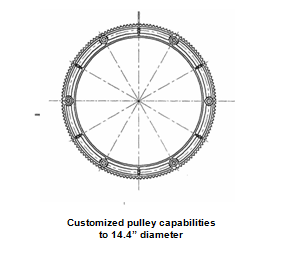 Manufactured originally of aluminum, the pulley performed well but was far too expensive in contrast to its value in the overall application. It reduced the profitability of the finished dryer.
Cost-Effective Power Transmission
Initially, Carter Day sought help from Torque Transmission as well as a competing supplier. Torque Transmission specializes in cost-effective power transmission solutions that are effective alternatives to all-metal components.
Torque Transmission's engineers designed a custom pulley injection molded of glass-reinforced nylon 6/6 for consistent, repeatable quality with a high value-to-cost ratio. The competitor recommended urethane which, although the per-piece cost would be higher, the tooling charges were significantly less.
After weeks of negotiation, Carter Day selected the competitor.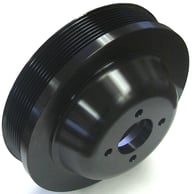 Following a year of field testing, the manufacturer discovered that the other supplier's urethane pulleys had failed their mission. Not only was Carter Day still in need of a solution, but it had lost on its original tooling investment.
Carter Day revived the project with Torque Transmission. Our engineers coordinated the project and within two months, delivered a working prototype of the timing pulleys to the Minnesota facility that fit perfectly on its first application.
Glass Reinforced Nylon Pulley
The resulting glass reinforced nylon pulley is lighter in weight and lower in cost than its all-aluminum counterpart. It also has superior chemical resistance and maintains tensile and flexural strength through wide-ranging weather conditions.
Carter Day has conducted destructive testing on the component and failed to destroy its integrity. And Torque Transmission now has both a committed customer and the capability to manufacture large diameter pulleys at extremely competitive prices.
Custom Designed Pulleys
With 50 years of experience, Torque Transmission has helped provide many custom pulley solutions. Check out some of our custom pulley applications below.
Learn More
Let's talk about making your idea a reality with Torque Transmission's 50-year history of high quality injection molding expertise. We have the knowledge and the equipment to help you make it happen.