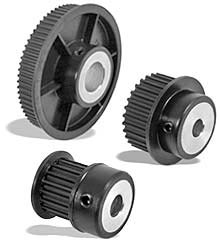 A manufacturer of satellite and telecommunications equipment developed a television reception satellite dish for mounting atop recreational vehicles. The design requires a system of three uniquely designed pulleys that govern the raising, lowering, and rotation of the dish. Initially, the pulleys were prototyped in aluminum. Searching for a custom pulley solution, the customer's design engineers called Torque Transmission.
A Custom Drive Solution
Torque Transmission's engineers designed a custom drive consisting of three pulleys with 14-, 32-, and 36-teeth – all made to order and injection molded of glass reinforced nylon for consistent, repeatable quality with a high value-to-cost ratio.
The resulting pulleys were lighter in weight and lower in cost, possessed consistent high tolerance, maintain tensile and flexural strength through wide-ranging weather and environmental conditions, and resist corrosion from road salt, acid rain, and other chemicals.
When Custom Still Allows for Short Deadlines
Torque Transmission created the tooling, ran pre-production samples of all three custom pulleys for final approval, and delivered the first production release to the customer's Burlington, Iowa plant, all in less than five weeks from the approval of the engineering drawings – a deadline from which other pulley manufacturers shied away.
The Advantages of PULL Production and Nylon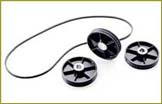 What allowed this Torque Transmission solution to meet the customer's specifications in their allotted timeline was the duel benefits of PULL production and nylon.
Often, the expectation for custom or non-standard parts is special tooling, manufacturing, and processes that are time consuming and expensive. Our use of PULL production, a type of lean manufacturing, allowed us to respond quickly and with a cost effective solution.
Pull-through production facilitates product customization of this kind because the products are made when they are ordered. This allows us to offer products that will meet a customer's needs, rather than offering standard products that may not meet the needs of a customer or do the job 100%.
Nylon, which offers a number of advantages over all metal construction, also allows us to keep products cost effective. Nylon as an engineered material offers many advantages over other pulley material options. Nylon is half the weight of aluminum and one seventh the weight of steel. Nylon pulleys also cost, on average, 25-50% less than aluminum pulleys in volume quantities.
Learn More About Our Full Line of Pulley Solutions
Contact us to learn more about our pulley options, and let our experienced engineers design you a solution.
You may be interested in these related posts: