What are your design options when you need a belt drive system that can transmit higher torque, won't slip, has no vibration, and is very quiet? The answer is an MRP drive system or multi-ribbed pulley and belt also know as Poly V and Micro V®️.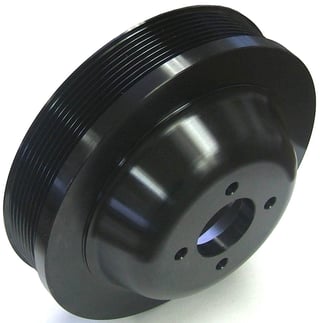 What is an MRP Pulley?
MRP pulleys, or multi-ribbed pulleys, feature lengthwise grooves across the circumference of the pulley. These grooves help lend MRPs their signature drive by adhesion. When used in conjunction with Multi-rub belts the surface area of the pulley is maximized, allowing for the use of smaller pulleys than standard v-belts.
Drive widths can also be reduced because of the increase in surface engagement, rather than increased surface area. This allows for an increase in horsepower, per inch of belt width.
Advantages of Multi-Ribbed Pulleys
Multi-ribbed pulleys, as mentioned above, offer increased horsepower with smaller width belts. This makes them ideal for applications where a smaller belt is advantageous.
This type of pulley also offers users a quiet operation with minimal vibration, making them an attractive pulley solution for applications where noise restraints are in place.
MRP Applications
Multi-rib pulleys can be found in many applications across a huge variety of industries. Because of the advantages associated with using multi-rib pulleys, they are often used in applications that require both long service life and high horsepower.
Some of the most common applications include:
Conveyors
Auto aftermarket
CNC machines
CMM coordinate measuring machines
Mobility lifts
Agricultural mechanization
Exercise equipment
Medical equipment
Automation
High-speed machine tools
Compressors
Microwave ovens
Office equipment
Display components
Learn More About Our Full Line of Pulley Solutions
Contact us to learn more about the advantages and benefits of the Torque Transmission line of MRP pulleys or to learn more about our pulley options.
You may be interested in these related posts: